this weekend, i went above and beyond the call and reached a new level of drunken stupidity. as this past weekend was the one before halloween and i normally do not go out during the week, this was my big chance to get drunk and shine. instead of going with the traditional pirate or the complex and unrecognizable dwight schrute, i went with the "offend as many people as possible in a tasteful manner" card and went as a guido. yes, a fuckin' guido.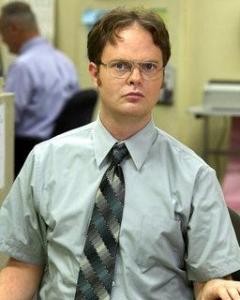 - "bears. beets. battlestar galactica."


instead of looking like that handsome man above, i went with the guido look, because 1) guidos are fucking stupid, 2) i had an excuse to be loud, obnoxious, and stupid and 3) because i've watched "my new haircut" to the point where my trashy accent could make me sound like i was from seaside.

so with that being said, i bought these ridiculous sunglasses that only a guido would wear from target, used half of a bottle of hair gel, and popped my collar to unprecedented heights. and voila, i was a motherfucking guido, because i was the fucking man.

i went to a party that night and all hell proceeded to break loose. i was the fucking man and no fucking jabronie was going to fucking stop me. i had my fucking party in a box i chugged beers like it was my bitch and had carried a swagger that gilbert arenas couldn't get close to. i was going to grind on so much pussy until my dick would fall off. (not really, don't take those last four sentences seriously) instead, i got a few compliments from some girls and hit it off pretty well with them once i ditched the jersey accent and the douchebag attitude that came with it. things were going well.

that was until the alcohol kicked in. it turns out that chugging beer isn't the best way to get a guido's party on. i did/was involved on some pretty embarassing incidents that i would never do if i was in the right frame of mind. it all started with this girl. she was a pretty attractive individual and although i didn't know what she was supposed to be, i was turned on by the fact that she had chopsticks in her cleavage. so i went up to this beautiful woman and dropped with a pick-up line that was something like "if you still had those chopsticks then i could take a piece of your breast." suave as i may have thought it would be, it surely didn't come out that way. although she said she never heard that before, i could definitely see the look of disgust on her face as we parted ways and i continued to be a stupid douchebag.

after being approached with multiple references from "my new haircut" and getting tired of drawing out every vowel when i talked, i began to notice that there was an empty keg sitting all by its lonesome self. i always remember the conversations that i would have with my friend brian, as he would steal empty keg shells to get kegs cheaper that way. anyway, this thought came to mind as a friend told me i should steal the keg when i brought that subject up to him. i walk over to the other side of the apartment, lift the empty keg up, and walk out with it. unfortunately, that was noticed by a random guy who happened to live there. after a pleasant exchange that consisted of me explaining why stealing a keg was a great joke to play and i never had a use for it, i returned the keg and disparately wanted to leave.

my friends and i eventually left and put my "party in a box" in the car. we drove back to campus, parked the car in the garage, and i grabbed the party. unfortuantely, i grabbed in the wrong way, so the rest of the beers all fell out of the box and onto the floor. i was too drunk to realize this so i simply flung the empty box on top of the car and went back home to sleep.

in short, being a guido and getting drunk on halloween are not very good ideas. thank god, i didn't do any other stupid shit. however, i'm glad to give my friends a source of entertainment that will not be seen anytime in the near future. i swear that after this weekend, i hate guidos so much that i never want to be one again.


note: if you ever want to see these incriminating pictures, check facebook.